There are many recipes for cooking minced chicken. One of our family's favourite dishes is minced chicken cooked with potatoes in thick gravy.
This is a simple dish that is easy to prepare and cook. There are only a few ingredients you need for this dish. It goes well with rice or pasta.
What You Need
These are the ingredients you need to cook these minced chicken potatoes. You probably already have most of the ingredients in your kitchen.
300g minced chicken
2 cloves garlic
1 medium onion
2 slices ginger
2 medium potatoes
½ tbsp sesame oil
1 ½ tbsp light soya sauce
3 tbsp dark soya sauce
⅛ tsp ground white pepper
1 tbsp + 1 tsp cornflour / cornstarch
½ tbsp oil

*As an Amazon Associate and member of other affiliate programs, I earn from qualifying purchases.
How to Cook Minced Chicken Potatoes
Let's start by preparing the ingredients,
Mixed ½ tbsp light soya sauce, ⅛ tsp white pepper, ½ tbsp sesame oil to the minced chicken in a bowl.
Mixed well and then add 1 tsp cornflour, mixed again.
Remove onion and garlic skin, cut them into small pieces.
Peel off potatoes skin, cut into small cubes.
Add 2-3 tbsp water to 1 tbsp cornflour. Put aside for use later.
We have prepared all the ingredients and let's start cooking.
You can either use a pot or a wok for cooking.
Add ½ tbsp oil into pot
Add onion, garlic and ginger, fry for 1 minute under medium heat
Add meat and keep stirring until meat turn brownish and no longer pink in color, for about 4 minutes
Add potatoes, fry for 1 minute
Add 3 tbsp dark soya sauce, fry for 5 minutes
Add water to cover the meat and potatoes, turn to high heat
When boil, turn heat to low and simmer for 15 minutes
Add in cornflour mixture and keep stirring until gravy thicken
Ready to serve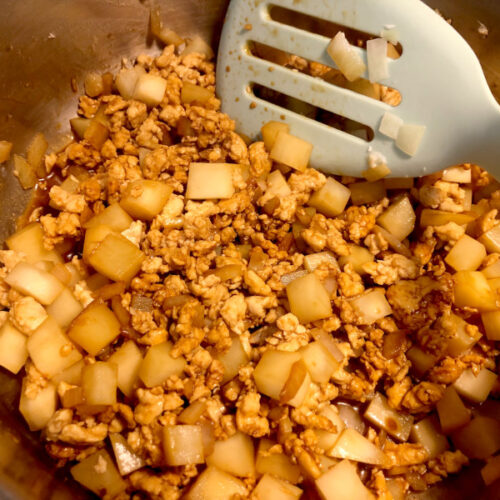 Minced Chicken Potatoes
Easy to make minced chicken potatoes recipe
Ingredients
300

g

Minced Chicken

2

medium

Potatoes

2

cloves

Garlic

1

medium

Onion

2

slices

Ginger

½

tbsp

Sesame Oil

1½

tbsp

Light Soy Sauce

3

tbsp

Dark Soy Sauce

⅛

tsp

Ground White Pepper

4

tsp

Cornflour

½

tbsp

Oil
Instructions
Preparation
Mix ½ tbsp light soy sauce, ⅛ tsp white pepper, ½ tbsp sesame oil to the mixed chicken in a mixing bowl

Add 1 tsp cornflour and mix again

Peel onion and garlic, cut into small pieces

Peel potatoes, cut into small cubes

Mix 2-3 tbsp water to 1 tbsp cornflour, put aside
Use a pot or wok for cooking
Add ½ tbsp oil in a pot, add onion, garlic and ginger, fry for 1 minute under medium heat

Add chicken, keep stirring until meat is no longer pink in colour, about 4 minutes

Add in cubed potatoes, fry for about 1 minute

Add 3 tbsp dark soy sauce, fry for another 5 minutes

Add water to cover the meat and potatoes, turn to high heat. When boil, turn heat to low and simmer for 15 minutes

Add in the cornflour mixture and keep stirring until gravy thickens