Before making corned beef pasta, you may want to know, what Is Corned Beef?
Corned beef is beef brisket prepared and cooked through a salt curing process.
Beef brisket is a tough cut of meat, and usually need to be cooked for a long time to make it tender. Through the long curing process, it produced the tender corned beef that many of us loved. When heated up, it gives the special aroma that is just delicious.
Ingredients
1 can of corned beef
1 medium onion
one large egg
2 cups pasta
1 teaspoon oil
Black ground pepper
Cooking Corned Beef Pasta
Bring a pot of water to boil, add in pasta, continue boiling for about 20 minutes
While cooking the pasta, open the can of corned beef
Chop and dice onion into small pieces
Crack the egg into a bowl and beat it lightly
Heat oil in a separate pot under medium heat
Add in onion and stir fry for 1-2 minutes until onion is soft
Then add in corned beef and break it up into small pieces.
Continue stir fry for 5 minutes until corned beef and onion mixed well.
Shake some ground black pepper to the corned beef mixture
Pour the egg over the corned beef mixture and fry for 2 minutes
When the pasta is ready, drain the pasta
Mixed the corned beef pasta and serve
Yield: 4
Corned Beef Pasta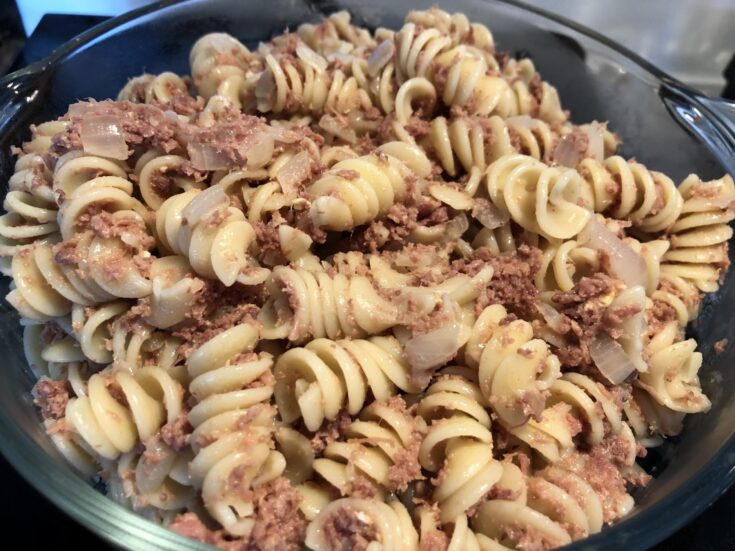 Easy recipe for breakfast or lunch.
Ingredients
1 can of corned beef
1 medium onion
1 large egg
2 cups pasta
1 teaspoon oil
some ground pepper
Instructions
Boil pasta in a pot, about 20 minutes
While the pasta is cooking, open the can of corned beef
Cut onion into small pieces
Crack the egg into a bowl and beat it lightly to mix the egg york and egg white
Heat oil in a separate pot under medium heat
Add in onion and fry for 1-2 minutes until onion is soft
Add in corned beef and break it up into small pieces. Fry for 5 minutes until corned beef and onion mixed well.
Shake some ground black pepper to the corned beef mixture
Pour the egg over the corned beef mixture and fry for 2 minutes
When the pasta is ready, drain away the water
Mixed the corned beef to the pasta